Much has been made of George Osborne's deal with Google allowing them to get away with hundreds of millions of pounds in tax. Not only is this amoral, but it also means that all taxpayers have to make up the shortfall created by such corporate sweetners. It is nice to see the media finally reporting fairly on an issue that is not positive for the Conservatives, but so far they have been almost silent on what is potentially an even greater scandal.
As the world's most successful search engine people obviously put a certain trust in Google and the results they produce. But I wonder how many realise just how politically biased Google is and perhaps therein, I believe, lies the reason why this Conservative government has let them escape paying their full tax dues on profits made in the UK.
If you follow the instructions below you may begin to what extent the Conservative Party and Google are now working in collusion to the detriment of all our pockets and free democratic choice..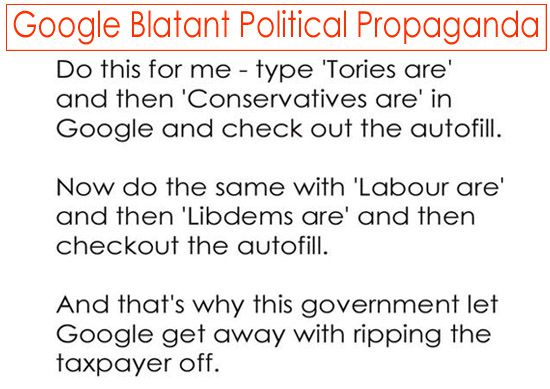 And this what you should see..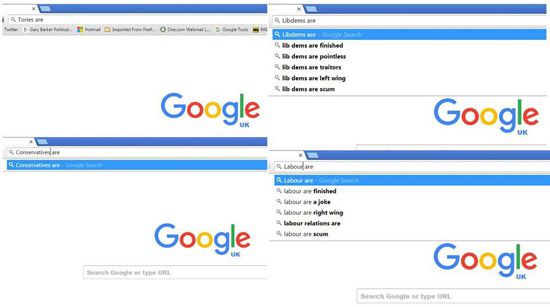 In the corporate world we now find ourselves in multinationals now brag they are more powerful than governments. It's up to us then to show them they are not more powerful than the people. Since this propaganda debacle came to light I have switched to duckduckgo.com as my search engine, as they pledged not to track our search history. But I would urge everyone who has any sense of fairness to switch to any alternative search engine from Google.