Gary's political cartoons appear in London based national newspapers and a number of nationals across Europe and on television both in the UK and the US. Examples of his cartoons have been included in several lists and publications judged the best political cartoons of 2013, 2014 and 2015.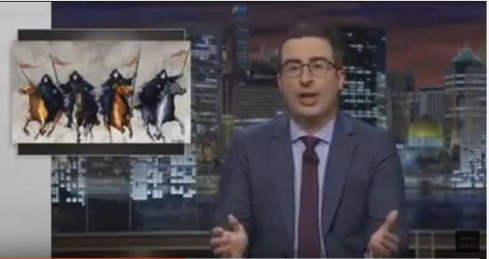 One of Gary's illustrations appeared recently on HBO Last Night Tonight with John Oliver
Gary's Business Illustrations
appear regularly in a number of business magazines, including Estates Gazette and Financial Director
He was described as an iconic illustrator by Dexigner, the international illustrators' guide for his work created for Volvo. He spoke at the British Academy in London, in June on the impact and importance of editorials and how as a cartoonist and illustrator he approaches his work.
Clients of the cartoonist and illustrator include:
HBO - Last Week Tonight with John Oliver - The London Times - The Guardian - Yahoo News UK - Town & Country - Volvo - Daily Telegraph - BBC Newsnight - Oxford University Press - Channel 4 News - BBC Politics Show - Estates Gazette - Reader's Digest - Building Magazine - Wisden Cricketer - Montagu Evans - The Green Party - Cabinet Office - Home Office - Department of Health - BBC News Magazine - Laithwaite's Wines - Mail on Sunday - Stern - Financial Director - Jung PR - Tribune - Institute for Learning - CRN - Freelancing Matters - Accountancy Age - Inside Housing - Daily Star on Sunday - Parliamentary Brief - Newsbase - Courrier International - Pearson Education - Freelancing Matters - Prospect - The Sun - Eulenspiegel - Unterrricht Franzosich - Stafford Long - Public Private Partnership - Hunter Design - New Europe - Berlin Metro - Manx Heritage - Global Reinsurance - Gallery Magazine
This site uses Google Analytics, which uses cookies to collect data.
UK political cartoonist and illustrator, cartoons for the London Times, Guardian, BBC and business illustrations for Estates Gazette and many more